Our Rich History
First Hawaiian Bank – a banking tradition.
A storied heritage
In the 1840s, when whaling was the largest industry in the Pacific, Honolulu was the major port-of-call for supplies. Although general merchandise stores performed some banking functions, the whaling industry created a great need for more complete and dependable banking services.
In 1858, local businessmen, Charles R. Bishop and William A. Aldrich, recognized this need and opened Bishop & Co.—a banking partnership under the laws of the Kingdom of Hawaii. Their headquarters was located in a small, corner office in a building near Honolulu's waterfront which still stands today. The deposits at the end of the first business day were $4,784.25.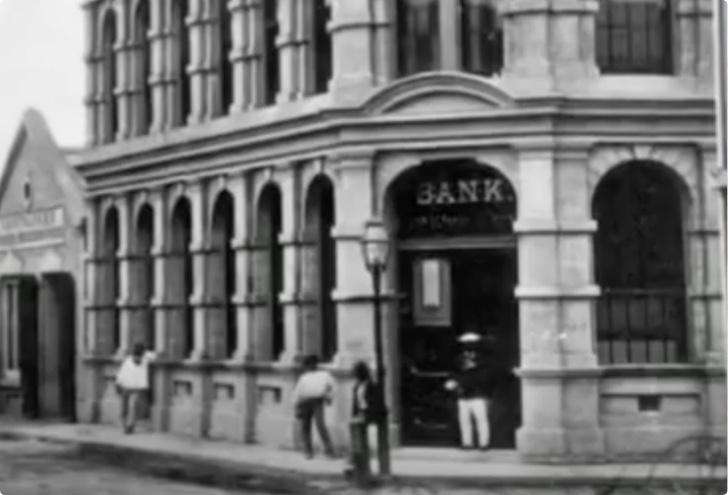 Building on tradition
From the introduction of sugar and pineapple in the late 1800s, to the boom of tourism fueled by statehood in 1959, to the jet age and beyond, Hawaii grew, and so did we. In 1969, our name was changed to First Hawaiian Bank, the bank that says, "Yes!"
Today, we are one of Hawaii's largest financial institutions, with 51 branches in Hawaii, Guam and Saipan, and over $20 billion in total assets.
Investing in the future
Our commitment to Hawaii's future is visibly evident in our state-of-the-art headquarters building -- First Hawaiian Center -- which opened in 1996. This sleek, 30-story banking center and office complex is the centerpiece of downtown Honolulu.
Timeline of FHB
To learn more about First Hawaiian Bank and its rich history, click on a time period below that interests you.

August 17, 1858 – Charles Reed Bishop, who had immigrated from upstate New York a decade earlier, and his partner, William A. Aldrich, opened Bishop & Co. -- the first successful banking partnership under the laws of the independent Kingdom of Hawaii. It operated from a basement room in "Makee & Anthon's Building" on Kaahumanu Street. Its successor, First Hawaiian Bank, today is the second oldest bank west of the Rockies.

Honolulu in the 1850s was a raw frontier town. Downtown was a mixture of one- and two-story Western style buildings surrounded by thatched houses. Whaling was still the big industry in the thriving little port and Bishop saw the need for a local bank. On the day Bishop & Co. opened, it took in $4,784.25 in deposits.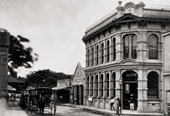 1878 – Bishop & Co. outgrew its little basement room and moved to the first home it could call its own, a two-story bank at the corner of Merchant and Kaahumanu Streets. To celebrate, the bank donated $25 each to the Ladies' Stranger's Friend Society, the British Benevolent Society, American Relief Fund and German Relief Fund. The building still survives as a law office on the makai side of Merchant Street, between Bethel Street and Fort Street Mall.
1895 – Samuel M. Damon bought Bishop & Co. from founder Charles Bishop.

1910 – Bank opened first branch in Hilo. Total bank assets, $4.8 million.
1911 – Bank opened first branch on Kauai, at Waimea.
1914 – Samuel Damon retired.
January 2, 1919 – Bank, formerly a partnership, incorporated as Bank of Bishop & Co., Ltd.
February 20, 1920 – Acquired Bank of Honolulu ($1.3 million deposits). Total bank assets, $17.1 million.
1923 – Bank opened branch in Kona.
1924 – Bank opened branch on Lanai.
July 1924 – Samuel Damon died.

November 9, 1925 – New 75,000-square-foot headquarters opened on the prime downtown corner of King and Bishop Streets. The $750,000 building was named after Samuel Damon. By then, the bank had $22 million in assets and a half-dozen branches.
1926 – Mele Williams L'Orange became first female officer (assistant cashier).
January 30, 1929 – Merger announced between Bank of Bishop and First National Bank of Hawaii, First American Savings Bank, Army National Bank of Schofield Barracks, Baldwin Bank (Maui). Name changed to Bishop First National Bank of Honolulu. Bank assets over $30 million.
1933 – Name changed to Bishop National Bank of Hawaii at Honolulu.
1956 – Name changed to Bishop National Bank of Hawaii. Forerunners of modern data processing installed -- keypunch, card sorter, numeric accounting machine to process checks.
1958 – As part of its 100th anniversary celebration, bank donated $50,000 to Bishop Museum for planetarium construction.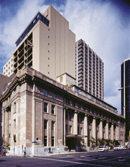 1960 —Name changed to First National Bank of Hawaii. Deposit total, $262 million.
1962 —Hawaii's first "skyscraper" built on the same block as Damon building. At 18 stories and 225 feet high, the $5-million building was the first downtown structure taller than Aloha Tower. It had 149,000 square feet of floor space and a 300-car garage. First National Bank of Hawaii then had assets of $340 million, 35 branches and 728 employees.
1963 —First computer installed.
1966 —Bank acquired Cooke Trust Company, Ltd.
1969 —Name changed to First Hawaiian Bank, which began to market itself as "The bank that says Yes." Dan Dorman, president since 1962, became chairman of the board and 27-year-veteran John Bellinger became president.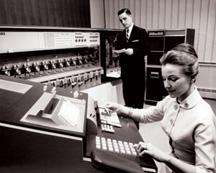 1970 —Deposits exceed $500 million. First Guam branch opened in Dededo.
March 1971 —Introduced photo credit card. First Hawaiian Bank has the oldest photo card product in continuous production in the U.S.
1972 —First ATMs installed.
1974 —First Hawaiian, Inc. formed as holding company for First Hawaiian Bank with John Bellinger as president and chief executive officer.
June 1, 1975 —First Hawaiian acquired former 11-branch Hawaii Thrift & Loan, which had been in financial difficulty. It was turned into First Hawaiian Creditcorp.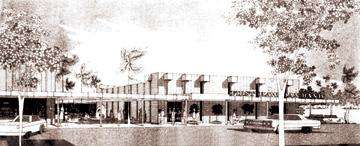 1976 — Deposits exceed $1 billion.
1977 — Formed First Hawaiian Leasing, Inc. Opened new Kapiolani branch, largest in the system.
1982 — Deposits exceed $2 billion.
September 17, 1989 — Chairman and CEO John Bellinger died suddenly. President Walter A. Dods, Jr. was later named to succeed him as Chairman and Chief Executive Officer.
May 3, 1991 — First Hawaiian acquired First Interstate Bank of Hawaii (20 branches, $858 million assets), quickly integrating its operations into the First Hawaiian system.
October 2, 1992 — First Hawaiian acquired East West Bank, which had one branch in Honolulu and one on Maui.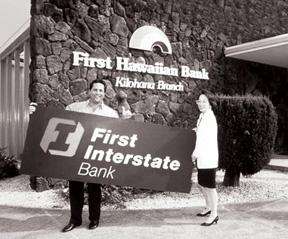 August 6, 1993 — First Hawaiian acquired century-old Pioneer Federal Savings Bank (19 branches, $600 million assets). It continued to operate as a separate institution.
January 9, 1994 — The 1962 high-rise on the site of First Hawaiian Bank's headquarters was leveled by a spectacular dynamite implosion. That cleared the block for construction of the bank's new headquarters, First Hawaiian Center. Administrative offices were temporarily moved up the block to 1132 Bishop St.
1995 — First Hawaiian Dealer Center opened in Irvine, Calif., handling automobile loans, the bank's first Mainland expansion.
1996 — First Hawaiian Bank introduced Hawaii's first PC home banking project leading to today's FHB Online® service.
May 15, 1996 — First Hawaiian acquired 31 branches in Oregon, Washington and Idaho from U.S. Bancorp. A new subsidiary, Pacific One Bank, was created from scratch and chartered in Oregon. Pacific One opened June 3, 1996, providing a platform for future Mainland expansion.
July 31, 1996 — First Hawaiian acquired ANB Financial Corporation (4 branches, $71 million assets), owner of American National Bank in central Washington state. American National's branches eventually became part of Pacific One Bank.
October 18, 1996 — Dedication of First Hawaiian Center, $175-million headquarters building in downtown Honolulu. First Hawaiian Center, Hawaii's tallest building (428 feet, 11 inches), also houses a downtown gallery of the Contemporary Museum, mixing modern art with the central banking floor. Gross office space: 418,000 square feet.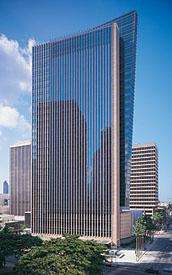 April 18, 1997 — Pioneer Federal was merged into First Hawaiian Bank.
June 9, 1998 — First Hawaiian Creditcorp was merged into First Hawaiian Bank.
November 1, 1998 — First Hawaiian merged with San-Francisco-based Bank of the West, former subsidiary of Banque Nationale de Paris (BNP). At the time of the merger, the surviving company, First Hawaiian, Inc., was renamed BancWest Corporation. The merger was valued at nearly $1 billion, largest stock deal in history by a Hawaii company. BancWest (parent company of First Hawaiian Bank and Bank of the West) is headquartered in Honolulu, with administrative headquarters in San Francisco. Former First Hawaiian, Inc. shareholders own 55% of BancWest; BNP, former owner of Bank of the West, owned 45%. BancWest began trading on New York Stock Exchange (Symbol: BWE).
July 1, 1999 — BancWest completed $180-million acquisition of SierraWest Bancorp, parent of SierraWest Bank. SierraWest (with assets of $900 million) was merged into Bank of the West. SierraWest Bank had 20 branches along the Interstate 80 corridor in northern California and in northern Nevada. The acquisition expanded BancWest into Nevada for the first time.
January-February 2001 – BancWest expanded into New Mexico and Nevada by acquiring 30 former First Security locations (23 in New Mexico, 7 in Las Vegas) with $1.2 billion in deposits and $300 million in loans. The branches, which were divested in connection with First Security's merger with Wells Fargo & Company, became part of Bank of the West.
May 7, 2001 – Board of BancWest entered into a merger agreement to accept BNP Paribas' offer to acquire the 55% of BancWest stock it did not already own for $35 in cash per share. The transaction, subject to approval by regulators and BancWest shareholders, is valued at $2.5 billion.
November 9, 2001 – First Hawaiian Bank acquired Union Bank of California's branch network in Guam and Saipan (3 branches, $200 million in assets).
December 20, 2001 – BNP Paribas, one of the world's largest international financial services groups, completed its acquisition of the 55% of BancWest stock it did not already own. BancWest is now a wholly owned subsidiary of BNP Paribas. BancWest stock, which had been listed on the New York Stock Exchange, stops public trading. BancWest remains headquartered in Honolulu, under existing management. Bank of the West and First Hawaiian Bank continue to operate as separate institutions.
March 15, 2002 – BancWest expanded into Southern California with the acquisition of United California Bank from UFJ Bank Ltd. of Japan. United California Bank, the largest Los Angeles-based bank, had assets of $10.5 billion and 115 branches throughout the state. United California Bank was merged into Bank of the West. BancWest now has more than 350 branches in Arizona, California, Colorado, Hawaii, Idaho, Iowa, Minnesota, Nebraska, Nevada, New Mexico, North Dakota, Oregon, South Dakota, Utah, Washington, Wisconsin, Wyoming, Guam and Saipan.
2003 – First Hawaiian Bank becomes Hawaii's largest bank in terms of assets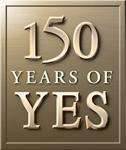 2004 – Walter A. Dods retires as CEO.  Donald G. Horner appointed CEO.
2008 – First Hawaiian Bank celebrates its 150th anniversary.
2010 – First Hawaiian Bank introduces POPmoney becoming one of the first banks in the nation allowing customers to send money electronically via email or mobile phone.
2011 – First Hawaiian introduces FHB Mobile Banking giving customers access to their accounts through their smartphone or mobile device.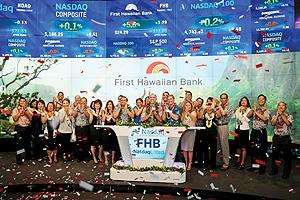 December 31, 2011 – Chairman Donald G. Horner retires as CEO.
January 1, 2012 – Robert S. Harrison becomes CEO.
August 4, 2016 – Initial Public Offering (IPO) of First Hawaiian, Inc. common stock begins trading on NASDAQ under the ticker symbol FHB. With a closing day market capitalization of $3.38 billion, FHI becomes the largest publicly traded company based in Hawaii.
February 12, 2019 – First Hawaiian, Inc. becomes a fully independent company once again as BNP Paribas exits its ownership position.
2020 – First Hawaiian Bank launched the Aloha for Hawaii initiative – a program aiming to generate a million takeout orders at Hawaii restaurants, as well as to provide up to $1 million in donations to the new Aloha for Hawaii Fund to help those impacted by the Covid-19 Pandemic.
2020 – First Hawaiian Bank launches Hawaii's first contactless credit card in Hawaii, adding convenience and safety amidst the COVID-19 pandemic.
2021 ¬– First Hawaiian Bank launches the new FHB Mobile app that helps customers manage their overall finances with personalized financial insights, budget management tools, and the ability to track spending across all financial accounts.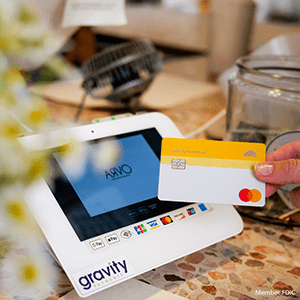 2022 – The new FHB Priority Unlimited Credit Card hits the market as the first card of its kind in Hawaii that you can get up to 2% cash back.
2023 – Reveals a new online banking platform and a partnership with Zelle to bring customers a fast and easy way to send and receive money with friends and family.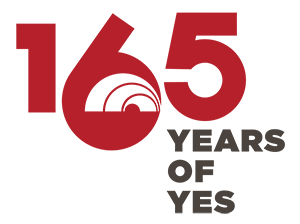 2023 – First Hawaiian Bank celebrates 165 years of yes through $1.65 million charitable donations.