How to Financially Budget for Your Furry Friends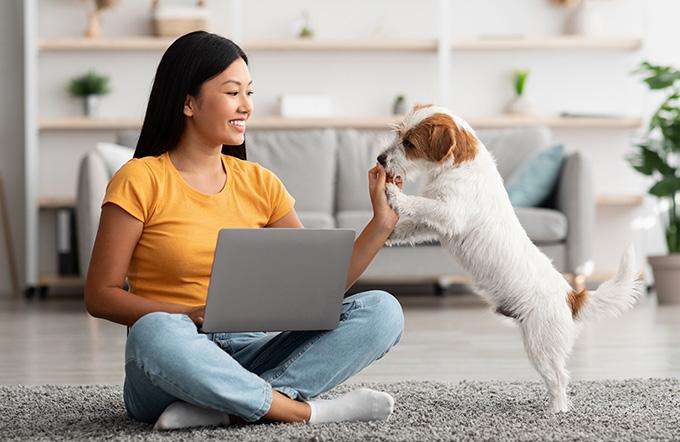 Americans love their pets, so much so that they dedicate huge chunks of personal time and space and spend billions of dollars a year caring for their furry friends.
70% of U.S. families surveyed in 2021-2022 by American Pet Products Association own a pet. Not surprisingly, dogs are the most popular pet (found in 69 million American households), cats are a close second at 45 million households, followed by fish, birds, small animals, reptiles and horses.
Billions a year spent on pets
As Americans' affinity for pets has grown, so too has the cost to feed, shelter and care for them. Pet expenditures were projected to rise to $109.6 billion in 2021 vs. $97 billion in 2019, according to American Pet Products Association.
If you currently have a dog – or are eyeing one as a pet – First Hawaiian Bank has some financial advice to keep the fear of your pet's expenses from overtaking you, yet at the same time going into this decision with your financial considerations top of mind.
As inflation pressures bear down on nearly every element of Americans' household budgets, there are some money-saving considerations for pet owners to minimize outlays for their furry friends.
Pet ownership expenses underestimated
All of the benefits of pet ownership come at a hefty cost that continues to escalate with inflation. For our canine companions there are dog food and accessories to buy, like leashes, crates, bedding, chew toys and waste bags. And don't forget costs for preventatives such as flea, tick or heartworm treatments, as well as other initial and ongoing veterinary checkups and health services. You may also need to consider the cost to register your dog with your local town, as well as pet-sitting or kenneling when you are out of town.
Unfortunately, most pet-friendly households don't budget the true and full price tag of pet ownership beyond the initial price to buy or adopt one. For instance, vaccinations may run from $170 to $250; and spaying/neutering, $200 to $500. Expect first-year costs for your pet to run from $1,500 to $2,000.
All things considered, pet owners can spend from $5,000 to $20,000 over a dog's average 12-year lifespan.
Managing your pet ownership costs
Stress over expenses need not overwhelm your family's desire for a pet. Consider these helpful money-saving suggestions from pet lovers and animal advocates that can make Fido a loving, prized family member:
Establish a pet budget. The decision to take on a pet is an emotional one, but there are financial considerations that, if overlooked, could cause a dismal experience for you and your pet. Among owners who ultimately gave their pets up to be "re-homed," more than half cited affordability as the chief reason. Start by figuring out if you can afford a pet. Consider monthly outlays for food, grooming services, regular and emergency veterinary care and medicines, toys, leashes and other pet accessories. If your pet must be cared for when you're away, factor in that cost, too. Obviously, your pet's size and breed will impact your outlays. One of the best ways to manage and keep track of your budget is through a financial management tool. MoneyMap is a tool that helps you monitor your First Hawaiian Bank account and almost any other financial institution you may have. Get started with MoneyMap.

Adopting vs. purchasing your pet. Both options have advantages and disadvantages that prospective pet owners should weigh. Adoption fees for a dog from a shelter or rescue will be considerably less and the cost of that dog already having been spayed or neutered should be factored into that fee. Buying from a breeder is significantly more expensive and you will also need to factor in the cost to spay/neuter your dog. Whichever you choose, the dog will need to be seen by a vet shortly after you get it, get any remaining shots and vaccines and of course will need routine veterinary care.

Enroll in pet health insurance. Getting pet insurance is a wise move for many pet owners so the cost of care can be more controlled. Pet health insurance falls into three general categories: Accident and illness; accident only; and preventative care. Maximum annual coverage limits for most pet policies range from $5,000 to unlimited, with deductibles from $100 to $1,000. Health Savings Accounts cannot be used to pay your pet's healthcare expenses. Unless your pet is a certified service animal, you also cannot deduct the costs of its training and care on your federal income taxes.

Open a pet emergency savings account. As an alternative, a dedicated savings account is a hedge against your pet's unanticipated injuries and ailments and other emergency expenses, including deductibles and out-of-pocket costs not covered by your pet's health insurance. First Hawaiian Bank offers automatic deposit and direct-deposit services so you can regularly contribute sums to sustain the account.
Having a pet in your life offers so many rewards, and at First Hawaiian Bank we are huge advocates of pet ownership. Let's chat about how our savings products and budgeting tools can help you plan for the perfect cuddly life partner.
Thank you for the feedback