Home Equity Lines of Credit
Your home's equity gives you the flexibility to handle expenses or opportunities along the way.
Apply by 4/30/2023 and enjoy 4.95% APR[[#1]] Introductory Rate fixed for 5 years with FHB Auto-Pay.
(other introductory rate and terms available)
Current Fully Indexed Rate 9.38% APR1 as of 3/1/23.
Features
 Certain closing costs waived[[#2]]

No appraisal required for most lines up to $400,000[[#3]]

Up to $500 termination credit when switching banks[[#4]]
Ease and convenience
Draw your line of credit by requesting a withdrawal in person, writing a check, or using FHB Online.
Your choice
Fixed rate lock options for added flexibility.
Peace of mind
Access to funds for emergencies and unplanned expenses.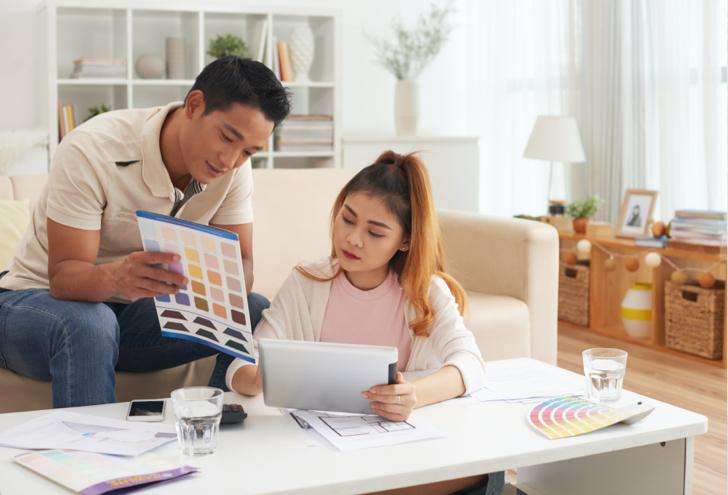 Ideal for
Flexibility to convert line of credit advances to fixed rate locks

Homeowners who may need access to cash in the future
What is the impact of making extra payments on my HELOC?
A line of credit is similar to a credit card in that it is a flexible borrowing solution. You can draw on this revolving loan simply by writing a check, request a withdrawal in person, or use FHB online for payments or transfers to existing FHB accounts. You are also able to borrow any part of your credit line again once you have repaid it. Except for the annual fee, no payments are due until you advance your line of credit. For more information, browse our options on loans and lines of credit.
With a personal loan, you receive the whole loan when you're approved and you start paying interest immediately on the full amount. You have a fixed schedule of payments that you make until the loan is paid off. For more information, browse our options on loans and lines of credit.
While the Consumer Home Equity Loan and Home Equity Line of Credit are both secured on your property, they have some differences. The Consumer Home Equity Loan is a loan with a fixed amount, rate, term, and payments. A Home Equity Line of Credit is a line of credit that can be drawn on at any time during the Draw Period, up to your credit limit. In contrast to the Consumer Home Equity Loan, a Home Equity Line of Credit has a variable rate, meaning that your monthly payments may vary. Under a HELOC you have the option to convert variable-rate balances to fixed-rate balances. 
Didn't find an answer? Still have questions?
If you choose to enroll in automatic electronic fund transfer payments from a First Hawaiian Bank personal checking or savings account to make your monthly payments ("Auto-Pay") before final credit approval, your Credit Line will have a promotional fixed Annual Percentage Rate ("APR") of 4.90%, 4.90%, 4.90%, or 4.95% for 24, 36, 48, or 60 months, respectively, from account opening (the "Auto-Pay Promo"). If you choose not to enroll in Auto-Pay before final credit approval, your Credit Line will have a promotional fixed APR of 5.15%, 5.15%, 5.15%, or 5.20% for 24, 36, 48, or 60 months, respectively, from account opening. You are not required to enroll in Auto-Pay to open or maintain your Credit Line. Enrolling in Auto-Pay merely provides you with the discount under the Auto-Pay Promo. Except for any Auto-Pay discount, no other discounts apply to the promotional fixed rates. From the date an application is submitted  - containing at a minimum your name, your income, your social security number (if applicable), the subject property address, an estimate of the value of the subject property, and the loan amount sought  - you are eligible to receive the promotion rates valid on that date for up to 90 days or until the date of loan closing, whichever should come first. Promotion rates cannot be changed within this period. After the applicable promotional fixed rate period ends, the APR for your Credit Line may vary and will be adjusted monthly to one and one-half percentage points (1.50%) over an index, which is The Wall Street Journal Prime Rate, except that the APR will never be lower than 4.50% and will never be higher than 19.00% for Hawaii and 18.00% for Guam. The current fully indexed variable APR is 9.38% as of 3/1/2023. Both the promotional fixed APR and the APR after the promotional fixed rate period will be one percentage point (1.00%) higher for leasehold (owner occupant only) properties. The APR after the promotional fixed rate period will also be one-half percentage point (0.50%) higher for investors or for lines secured by a second home. Other adders may apply. If you have a personal Priority Banking Plan Checking Account, you may apply for an optional preferred APR that provides a discount of one-quarter of one percentage point (0.25%) for personal Priority Banking Gold or Priority Banking Level 2 (grandfathered), and thirty-five one hundredths of one percentage point (0.35%) for personal Priority Banking Platinum, below our regular customer margin. The HELOC must qualify as an Associated Account. To receive the preferred rate, you must be enrolled as a personal Priority Banking Plan Checking Account customer by final approval of your HELOC application and maintain your personal Priority Banking Plan Checking Account and eligible Credit Line in good standing with us. There is an annual fee of $100, which is non-refundable and will be charged to your Credit Line on each anniversary date of your Credit Line account during the ten (10) year draw period. The annual fee will be waived if you maintain a personal Priority Banking Platinum Checking Account and have taken the steps required to receive the personal Priority Banking Platinum preferred rate described above. An annual fee is not assessed during the twenty (20) year repayment period after the draw period. Promotional introductory rates are subject to credit approval and good for new approved Home Equity FirstLine applications received from 3/1/2023 to 4/30/2023. You must carry insurance on the property that secures the Credit Line; flood insurance is required if the property is located in a special flood hazard area. Refinancing of existing First Hawaiian Bank mortgages and Home Equity FirstLine lines of credit and locks, and lines to purchase and install a new photovoltaic system, do not qualify for the rate offer. Only Credit Lines secured by Hawaii and Guam properties are eligible. Cannot be combined with other special rates, promotional offers, programs, or discounts.
For Hawaii, certain closing costs will be waived for owner-occupants, investors, and lines secured by a second home. Fees for the following third-party services, if assessed, will not be waived: ALTA policies, appraisal services, trust reviews, or preparation of other legal documents. These closing costs are estimated at $750 – $3,557 (ALTA policy), $275 – $2,285 (appraisal services fee), $150 - $375 (trust review fee), and $225 – $475 (legal documentation). For Guam, Receive $100 off closing costs, which are estimated at $665 - $2,871 (appraisal services fee), $12 (flood determination fee), $840 - $2,212 (title report), $150 - $1,145 (recording fee), $416 (trust review fee), and $400 - $725 (legal documentation). Depending on your specific Credit Line, the closing costs could be higher than estimated and other closing costs may apply.
An appraisal may be required for properties whose tax-assessed values cannot be verified, leasehold properties, or properties in poor condition. An appraisal is required for home equity lines that are simultaneously opened with a mortgage, and secured on the same property, if the aggregate value of both loans is $400,000 or more.
Up to $500 Credit: If refinancing a non-First Hawaiian Bank loan or credit line, you may receive a credit at account opening of up to $500 to reimburse you for any early closing or termination fees assessed by your current lender and paid at closing